Proofing
To start proofing, have editable text open in your browser or program, click the Lingofy extension icon and select a proofing option from the menu. You must install a Lingofy proofing extension and log into it to proof.
Note: What do we mean by "editable text"? That means the text can't already be published online or in preview mode. In order for Lingofy to make the changes you approve during proofing, the text must be in a state where you can  make changes to it.
When you run a proofing session via the extension, you are telling Lingofy to check your copy against the proofing profile (reference or guide) you select from the extension's drop-down menu. You can have as may proofing options as you want, containing as many combinations of custom entries and references as you have.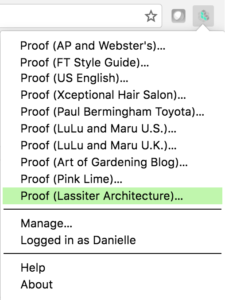 At right, you can see the Lingofy extension drop-down menu populated with style-checking choices we call proofing profiles. The top three options are out-of-the-box based on account type, and you can proof with them immediately. Proofing copy against these will catch standard spelling and style issues related to the language or kind of reference selected:
"AP and Webster's" will catch issues for AP style and U.S. spelling (with Webster's New College Dictionary, fifth edition)
"FT Style Guide" will catch issues for Financial Times style and British spelling (paired with British English dictionary)
"US English" will check for Plain Language and U.S. spelling, as well as suggesting usage and synonym guidance
All of the proofing profiles beneath those three are custom profiles created by the user. They contain sets of entries added by the user that relate to specific projects and topics she writes about. If she needs to edit content for a client, she selects the client's name and knows that proofing option contains the custom entries relevant to that content as well as whatever reference she paired them with, such as "AP and Webster's" or "US English."
"Manage" will launch a new browser tab and take you directly to Lingofy Manager.
Log out by clicking on "Logged in as…" You may do this to update the menu proofing options after creating a new proofing profile from within Lingofy Manager.
When you select a proofing option, Lingofy will check your text and a proofing window will pop up so you can review the errors Lingofy flagged and accept or reject suggested fixes.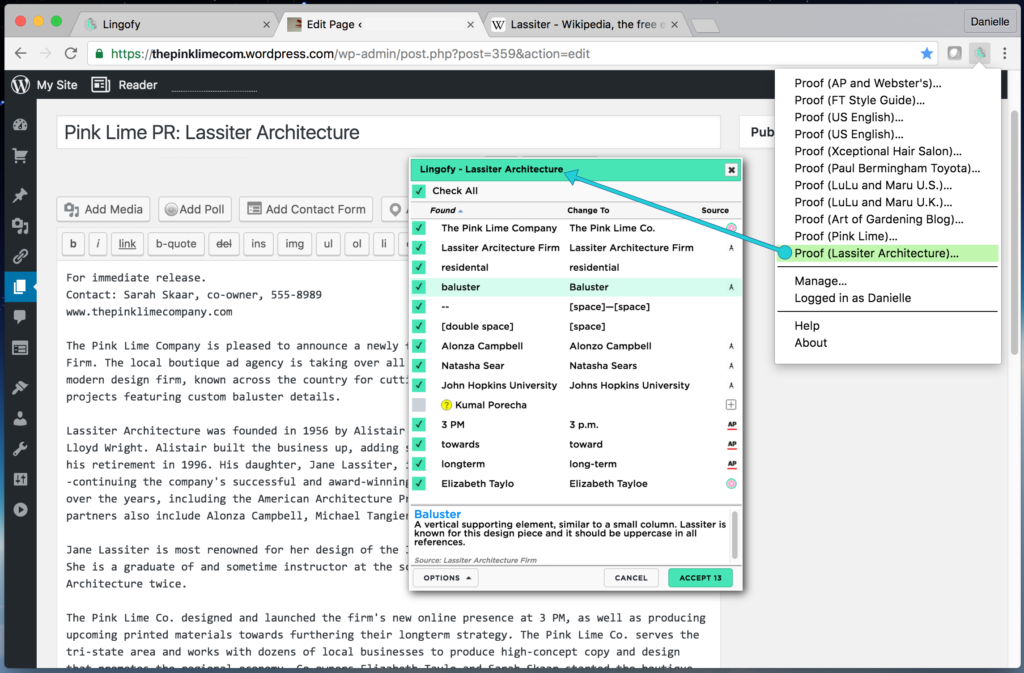 In the example shown above, the user is editing a WordPress post using the Lingofy extension in Chrome. Notice that the post is editable and not yet published.