You can import multiple entries at once into Lingofy. Perhaps you have a roster of softball players or a company contact list. Perhaps you have a scientific style guide that you want to use when proofing with Lingofy.
The "Import" feature lets you specify to which out-of-the-box reference (AP and Webster's) or custom guide the entries you import should be added. Then you can use a text editor to create tab-delimited entries and paste them into the window.
Import
Go to the Entries page and click the "Manage" button. At the bottom of the screen is the "Import" button; click it and a pop-up will appear. First select the guide or reference to which you want to add the terms from the drop-down menu.
Create the import list in a simple text editing program (such as TextWrangler or Notepad). You can import just the correct entry terms or both terms and definitions.
Format the terms in your text editor using the Tab and Return keys like this (brackets indicate the action of hitting TAB or RETURN and should not be included in your text document):
or
incorrect word[hit TAB]correct word[hit RETURN]
or
incorrect word[hit TAB]correct word[hit TAB]information[hit RETURN]
or
[hit TAB]correct word[hit TAB]information[hit RETURN]
Then copy and paste your list into the Lingofy import window. See example below.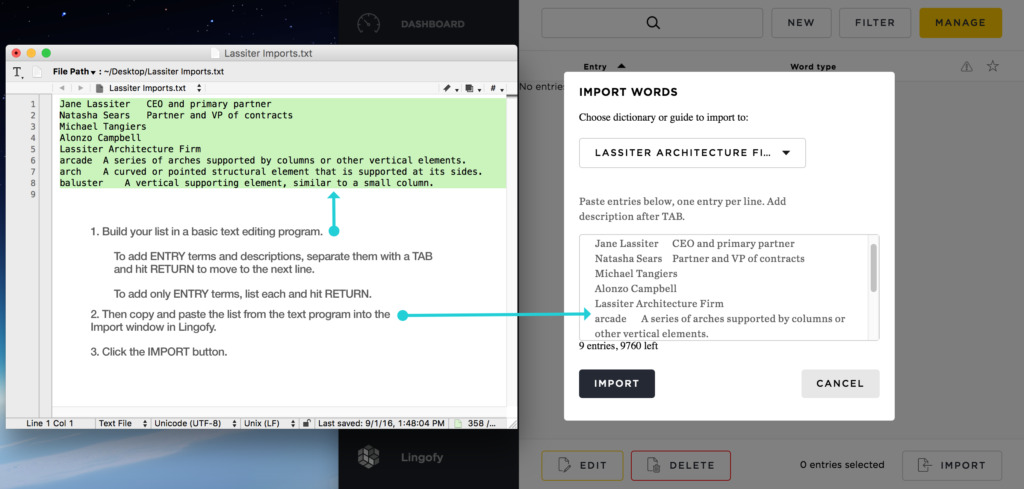 Once you have imported the entries, you can further edit or add more information as needed — at any time. Or you can just start proofing with the reference or custom guide to which you added the entries. You can see your new entries in "Manage" mode after import (shown below).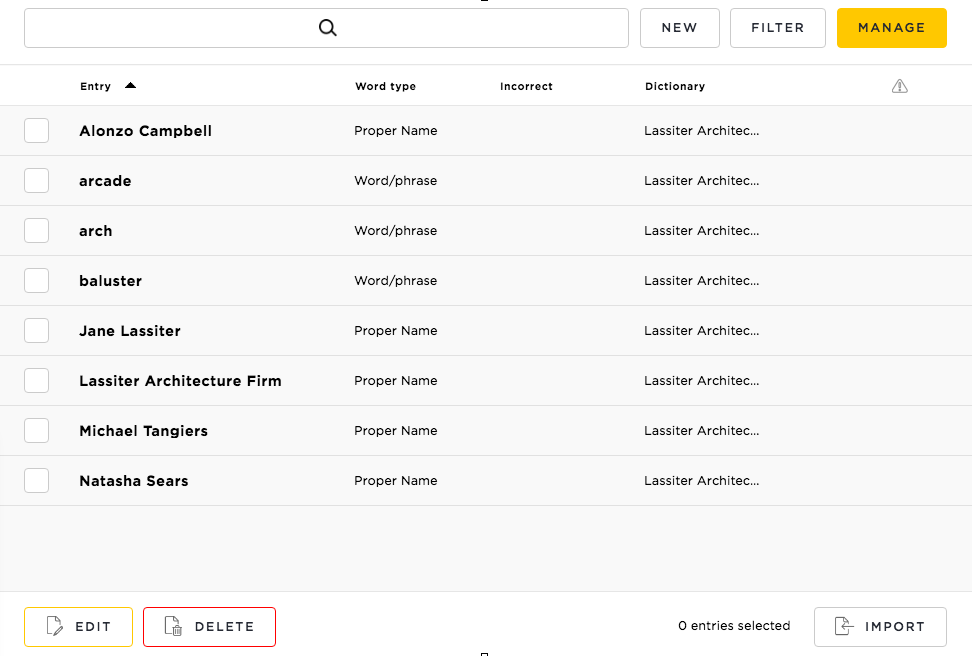 Note: You cannot type these entries directly into the import window because browsers can't understand a TAB the same way as a text editing program. You can build import lists in programs such as Notepad or TextWrangler or any simple text environment. Then copy and paste that list from the text document (.txt) into the box.