Proofing Menu
After you have installed the Lingofy extension in your browser or program, logged in and clicked a proofing profile in the proofing menu, Lingofy will check your text against the references and/or custom entries included in that proofing profile.
Note: The Lingofy proofing window provides one-stop editing for all your style needs– custom entries and published references such as AP get checked at the same time –and we recommend you hold off on proofing until your first draft is complete so you can find and fix all the issues at once.
Reviewing Results in the Proofing Window



As you review Lingofy's catches in the pop-up proofing window, there are some things we'd like to point out to make your proofing experience better:

Phrases, Not Just Words

Lingofy doesn't just catch spelling errors, it catches style conflicts and multi-word phrases. It can also tell when you've spelled a word correctly but used it in the wrong place such as the example here where "John Hopkins University" is the "Found" term and Lingofy suggests a "Change To" of "Johns Hopkins University" with an "s" on John.

Note also that it's catching proper names that have been misspelled ("Elizabeth Taylo" should be "Tayloe"), or use the wrong style ("The Pink Lime Company's" preferred style is "The Pink Lime Co.")
Found

The "Found" column on the left of your window displays the term that Lingofy thinks you should change. These are the incorrect terms. For example, the word "residental" is incorrect and should be changed to "residential" as shown in the next column…

Change To

The "Change To" column is filled with Lingofy's suggested correct replacements for the incorrect "Found" terms. Notice that the AP Stylebook has flagged "longterm" and suggested "long-term" as the fix.

Note: You can edit "Change To" suggestions if you don't like them. Just click on the Change To term and type in your preference. At left, notice that the AP suggestion for "long-term" becomes editable by clicking on the term in the Change To column.
Source

The far-right column of your proofing window displays which entry source caught the issue. It might be:

A reference ("AP and Webster's," "US English," "Financial Times")
A custom guide containing local entries (that you or another user created)

Hovering over the area to the far right of the term will provide a pop-up window with details about the source, as shown at right with the term "messaging," which is a Warning term from "The Pink Lime Co." custom guide. (More on Warnings below.)

This is also where adding icons to your custom guides improves your proofing experience: You can immediately tell the source of a term.

Tip: This example has the "Show Information Pane" option checked, which provides source and definition information at the bottom of your list in a separate window pane.
Accepting and Rejecting Lingofy Suggestions
 

Check All: Each term listed has a checkbox to its left. (You can set those boxes to be checked or unchecked by default by going to the Options menu at the bottom left of the window.)

If you want to accept Lingofy's "Change To" term, check the box. (If you want to reject it: uncheck the box or leave it unchecked.)

There are a few different ways that "Found" terms are presented, based on what kind of proofing issue they present.

The majority of flagged terms will relate to either your reference ("AP and Webster's," "US English," etc.) or custom entries created by you. Lingofy will compare your text to those references and offer a replacement term in the right-hand "Change To" column.

There are two exceptions:
Exception 1: Warning: These entries — created by you or another Lingofy user (and perhaps included in custom guides) or from certain references such as the AP Stylebook — appear with a small red triangle and exclamation point. These are words that should be avoided because they are vulgar, clichéd or prone to misuse. They can also be words that are only appropriate in certain contexts; "pubic" is relevant to medical copy, but usually doesn't belong in advertising language. Lingofy will not suggest a "Change To" for a Warning, but instead is warning the editor to ensure this term is being used in the right context.

In this example at right, a custom entry created by the user warns against using the advertising buzzword "messaging" in content intended for the public.

Tip: Warnings don't have populated "Change To" suggestions because they aren't forbidden, they just aren't preferred. You can type a different word in the "Change To" field or reject the suggestion based on the context. Warnings are unchecked by default.
Exception 2: Unknowns: This is a word that none of Lingofy's sources recognize. In other words, this word isn't in a reference such as AP or a custom entry created by the user or the underlying dictionary (Webster's in this case). It appears with a question mark on a yellow circle.

Like a Warning, the "Change To" field is blank and you can double-click it to enter a change. Note that the checkbox is unchecked by default on Unknowns — you can choose to ignore this, if for example, it's a term that is correct but won't come up again in future copy (i.e., the last name of an interview subject). There is something else you can do when you come across an Unknown and that is….
Add to Dictionary: This tool was created for users who share guides (and their custom entries) with others. The owner of the guide can add entries at any time, but this feature lets other users suggest new entries to the owner for review.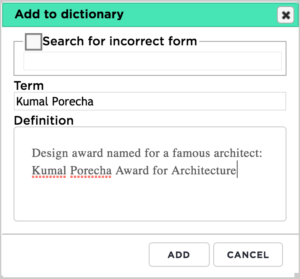 To the far right of the Unknown in the Source column is a plus symbol in a square. Clicking on that symbol generates a pop-up window that includes:
Search for incorrect form: You can add an incorrect version that Lingofy will look for, but it's not required.
Term: This will be populated with Lingofy's "Found term," but you can alter it as needed.
Definition: Users can include style or definition information about the term in this field.
Click "Add" and the term will be sent to the guides owner's Entries list as a "Suggestion." The person in charge of those entries – the original guide creator and owner – can then decide whether to add this term to the custom guide or ignore it.
Tip: You can customize how the Lingofy proofing window displays information with the "Options" button.